Spring Yard Clean Up Edmonton
Good spring lawn care will help your business lawn grow lush, green, and healthy throughout the summer and fall.
Embrace the arrival of spring by giving your garden areas the attention they deserve with Snowman Removal expert Spring Clean Up services in Edmonton.
We understand the value of preparing your property for the next flowering season. With our skilled staff and complete cleaning solutions, we'll revitalize your landscape, leaving it renewed, vibrant, and ready to enjoy. With our excellent Spring cleanup in Edmonton, you may bid farewell to winter's remains and welcome spring's beauty.
The lengthy cold winters in Edmonton might leave your yard looking overgrown and unprepared for the summer months ahead. Most lawns could need some tender loving care to get them going again.
It's time for an excellent spring clean-ups for Edmonton properties, and at Snowman Removal, we can help you stay on schedule with your lawn care at this vital moment of the year. 
Our Comprehensive Spring Cleanup Services:
We provide a broad choice of Spring Cleanup Edmonton services suited to your unique requirements. We'll restore the curb appeal of your lawn and garden by cleaning away debris, fallen branches, and winter damage and raking and removing leaves. We also provide Spring Fertilizer – add spring-formulated fertilizer so your lawn gets off to a fast start.
Our Edmonton Commercial Spring Clean Up Services
Our commercial spring clean up services in Edmonton include several tasks designed to improve the aesthetic and efficiency of your Beautiful Yard. We provide the following services: book early all the leaves
Lawn Maintenance: We will mow the grass, trim the edges, and remove any weeds or debris to keep your yard looking nice and clean.
Flower Beds Preparation: We will clean and prepare flower beds by removing weeds, dead plants, and trash, leaving a clean slate for future flowers.
Leaf and Debris Removal: We will remove your property of fallen leaves, branches, and other debris, keeping your outside space clean and free of potential risks.
Core Aeration: We extracts cores of soil, thatch and grass from the surface of the lawn to increase nutrient availability, water penetration, soil air exchange and reduce compaction.
Mulching: We provide new mulch in flower beds and around trees and shrubs, which includes insulation, moisture retention, and a polished appearance.
Irrigation Inspection: We will inspect your irrigation system to ensure it is operating correctly and effectively, and we will make any required repairs or modifications.
Power Raking: We will de-thatch your whole lawn, eliminating any debris and dead grass that is preventing it from growing to its full potential.
Seasonal Cleaning: As part of our complete spring cleaning, we will remove any winter remains, such as ice, snow, and salt deposits, to prepare your property for the warmer months.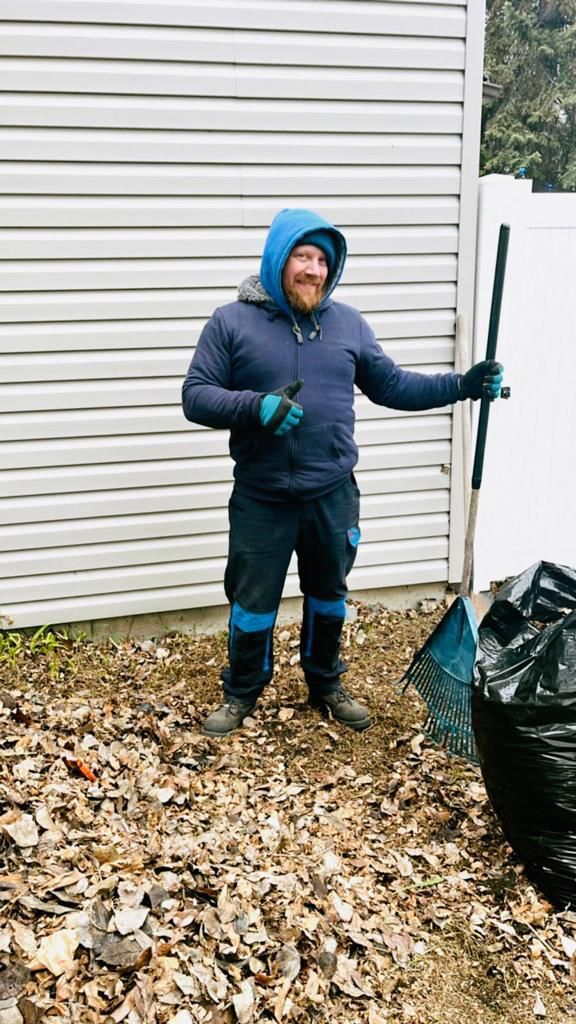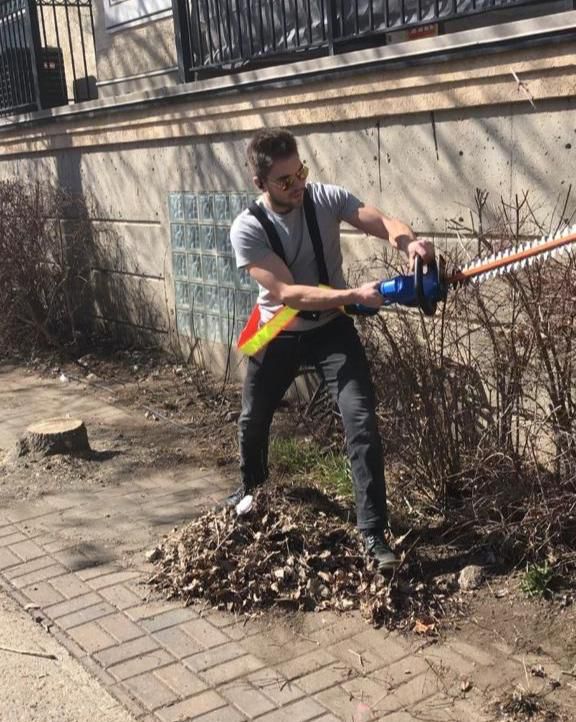 Why is a Spring Clean Up Important in Edmonton?
Completing the proper yard clean up services for your grass prepares it for the coming year, allowing you to enjoy your yard all summer. The winters in Edmonton are hard, but the summers are magnificent. Booking a spring clean up for your Edmonton property reduces the amount of labour you will have to undertake.
Removing the previous year's grass and thatch buildup makes way for fresh growth. Having all spring cleaning services performed lowers the appearance of grass diseases, enhancing overall yard health.
Completing a spring clean up in conjunction with one of our Lawn Care Packages will ensure that your lawn is in the best possible condition for you and your family to enjoy. If you live in the Edmonton area, contact us today to see how we can help you with your spring clean up this year!
Why Should You Hire Us for Commercial Spring Cleaning in Edmonton?
There are various reasons why you should pick us as your commercial spring cleaning services provider in Edmonton:
Experience and expertise
Customized Cleaning Solutions
Quality Assurance
Time and Cost Efficiency
Flexible Scheduling 
Health and Safety
Customer Satisfaction
Fully Insured and Licensed
When you hire us for commercial spring cleaning in Edmonton, you can trust that your facilities will be cleaned appropriately, producing a new and attractive environment for employees and visitors.
Contact Us for Reliable Edmonton Spring Clean up
Spring is a season of restoration and new beginnings. Allow Snowman Removal to do the hard work while you relax and enjoy the season's beauty. Contact us today to book your spring cleaning and see how our expert services may benefit your Commercial Properties. Let's work together to make your yard clean that you'll enjoy all year! 
Frequently Asked Questions (FAQs)
We have two spring cleaning packages – standard spring cleaning and spring cleaning with aeration. Sign up for a full-season Lawn Care package that includes Spring Clean Up, full-season Lawn Mowing, and other benefits.
You may save money by signing up for one of our full-season Lawn Care plans, which includes a Spring cleanup, full-season lawn mowing, and other benefits. Participating in our Referral Programme allows you to earn additional credit for any Snowman Removal service. Please refer a friend or neighbor to Snowman Removal. You will each receive one month of lawn care services for free. You assist them in caring for their garden and are rewarded as a Snowman removal client.
according to the demands and size of the facility, the particular services involved in commercial spring cleaning might vary. Lawn mowing, trimming, edging, weeding, and mulching flower beds, removal of dead plants and trash, power washing of sidewalks and exteriors, tree and shrub pruning, gutter cleaning, and general landscape inspection and upkeep are all part of it.